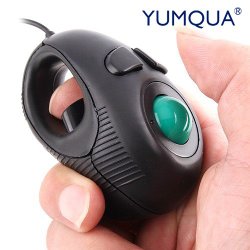 This mini trackball from YUMQUA is a small handheld device that is intended to be an ergonomic way to operate your computer in more of a free-handed way. With a free-floating design that is held in your hand and then a small ball and few buttons it is minimal and definitely allows free range of motion. But does it live up to its promise?
Click here to read more about the YUMQUA Y-01 Mini Trackball on Amazon
Product review
This handheld trackball is a smaller device as would be expected from something intended not to sit on a desk or table. It has a very simple design – put it in your hand and the index finger goes into the trigger button and the thumb goes to the roller ball and outside buttons. The left click is operated by the trigger button, the outside right button maps to right click, and the outside left button maps to scroll. That is about it and from there it is just about practicing until you become used to the device.
The trackball does operate in a smooth fashion and controls the movement on the screen well. As it has to be in a handheld device the ball is smaller than a fullsize trackball, but fits the size for the handheld device quite well. If you are looking for other options that are more full-size the best ergonomic trackball mouse reviews page is a good place to start.
This mini device is a wired USB connection and the cord is very long coming in at a bit over 6 feet. With an anticipated usage away from the computer some distance was probably built into the design, but 6 feet does seem a bit much. It shouldn't cause much problems, but something to be aware of and maybe some of the cord will need to be tied up to keep the slack at a minimum.
This one is going to be very user specific on whether you like it or not. Does it give the freedom of movement and ability to use more comfortable hand positions? Yes it does. Is that enough to overcome some of the learning curve that you will encounter when using this or another handheld trackball? That is hard to say. Getting used to this device takes some time and practice, but once that curve is overcome it could be a low strain device for at least recreational computer use.
Product features
-Handheld use not limited to table or space constraints
-Lightweight design
-Ambidextrous design allows for either right or left handed operation (other left handed mouse reviews)
-Simple 3 button design plus trackball
Summary
A handheld trackball mouse input device isn't quite a novelty item even though it is a bit unusual. It gives some interesting features from an ergonomic perspective including allowing free range or motion and multiple positions of use. There is however a learning curve to overcome when first trying to use it which will have to be broken through with time. This one seems like an ok choice for a secondary mouse or for recreational use such as web surfing, but doesn't seem like it would fit as well for business or gaming activities. If that seems like where you would use it then maybe give this one a try.
Click here to buy the YUMQUA Y-01 Handheld Trackball on Amazon