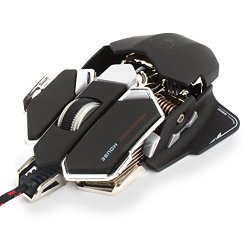 At first sight this gaming mouse offering from YCCTEAM makes you think you have found a Transformer and not a mouse. Is it an Autobot or a Decepticon? That cool first look is exactly what they were aiming for in the gaming market with a highly customizable mouse with some good features.
Click here to read more about the YCCTEAM Ergonomic Gaming Mouse on Amazon
Product review
Like mentioned in the introduction above the first thing to note about this mouse is its striking appearance, but don't let that overshadow its features. It is built along the traditional mouse model but with some ergonomic features. It is designed to give you good hand feel to fit your palm perfectly with a well designed shape that is made to give a comfortable gaming experience. The lightweight aluminum frame on this mouse makes it sturdy without being too heavy or too light. The rubberized plastic adds a nice feel to the mouse and it tracks very well.
One of the key features on this gaming mouse is the 9 buttons with customization on all of them. With the ability to customize whichever button feels the best and is in the easiest position for you to click to your most frequently used tasks this should make for more comfortable game play. In addition to the customizable buttons the mouse also has adjustable DPI settings with a maximum of 4000 DPI. This should allow for a level of comfort in mouse movement for even the most demanding gamers.
Not adding to the way the mouse feels in your hand or enhances your gameplay, but it has a very cool light effect. It has a programmable LED lighting design built in that allows for almost any color to be available such as blue, red, green, or white. If you don't want a light it can also be disabled. This is a wired mouse and it is available only in a right handed version.
Product features
-Good feel in the hand for comfortable gameplay
-Futuristic high tech look and feel
-Light effects
-9 button mouse, fully customizable and programmable
Summary
This gaming mouse is a strong contender if you are looking for a mouse to enhance your gaming experience by making it more comfortable and more effective. The multiple button customization and high DPI settings should help in enhancing gameplay when playing for either long or short sessions. And not only that if the lighting features are something that you like then it gives you a very good looking mouse when playing with friends or in a group. If you want to keep looking you can view other ergonomic mouse products by clicking here.