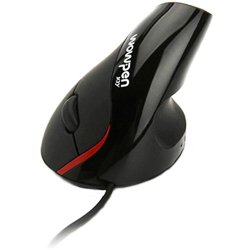 The Wow Pen Joy vertical ergonomic mouse is a generally well reviewed product overall that has been around for a while. With a nice set of overall ergonomic features let's see what the pros and cons are with this device.
Click here to read more about the Wow Pen Joy Vertical Ergonomic Mouse on Amazon
Product review
The Wow Pen Joy mouse is designed with a vertical style design intended to maintain a neutral and relaxed hand and forearm position. The grip is designed with "pen" grip comfort. This gives the thumb a nice place to rest when in use. The ring and pinky finger on the hand side of the mouse still has some risk of dragging on the desk or mouse pad during use depending on how the device is held, but can be mitigated with some practice in use.
There are 4 clickable buttons and a clickable scroll wheel on this mouse. On the thumb side there are forward and back buttons in easy reach for use that can be helpful in browsing. On the finger side there is a left and right click and the clickable scroll wheel.
The build and quality of this mouse is good. The materials used feel good on the hand and the look and feel of the mouse is very nice.
The Wow Pen Joy may be considered a nice middle of the market vertical mouse. It has a nice price point in the lower to midpoint of the range while having a decent set of features. It isn't necessarily the most comfortable and doesn't have the most features, but it does have a good feature set for the price. It has shown some good staying power getting good reviews over a long time, so it can make a good selection with a good value purchase.
Product features
-Vertical mouse comfort at a good price
-Comfortable design
-Light and easy to use
-Good look and feel
Summary
While there are other higher rated options this is a good vertical mouse choice for the money. With a long track record this mouse offers good value. It has comfort and a good design. Check it out if you like the design and style more than some of the other choices.
Click here to buy the Wow Pen Joy Vertical Ergonomic Optical Mouse on Amazon