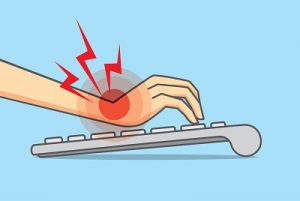 Last updated: January 30th 2017
A lot of people are looking for the best ergonomic keyboard that can allow them to be more comfortable when working at their computer workstation. Working on a computer for more than 8 hours a day is a relatively common occurrence now, especially when both work and personal use are considered. Using the computer for this extended time can be hard on wrists, fingers, thumbs, and even elbows and shoulders and contribute to soreness and fatigue. Lots of people are searching for the best ergonomic keyboard, mouse, and general office setup to reduce or get rid of this pain by making for a more comfortable computing experience.
Many users and reviewers of ergonomically designed keyboards talk about the positive impact it has had in aiding in relief from wrist pain from the ergonomic comforts they provide. For someone who has experienced wrist and hand pain from using a computer for extended periods of time in a home and office environment then one way to gain some comfort may be by the use of an ergonomic keyboard such as this. The swap to an ergonomic keyboard won't always be a cure that eliminates all pain but it may be something that helps to improve it.
Using an ergonomic split keyboard (which most of these are) will be strange at first and takes about 2 days to get fully used to it, but after that it will seem perfectly normal. The layout of this type of keyboard seems to position the hands and fingers in a more natural position and is more comfortable when typing. Typing speed may be impacted for the first few days, but after becoming acclimated to the keyboard the speed should return. You may notice the elimination of some bad typing habits by virtue of using an ergonomic split keyboard and typing accuracy actually seems to increase as it forces an improved focus on touch typing skills.
This style of keyboard places your wrist and hands in a nice comfortable position, and after using it for a while going back to the standard keyboard will be what feels strange. One option among many to improve wrist and finger pain is the use of a keyboard such as these and they come recommended by many users to aid that purpose. If it is recommended to you to make a more ergonomic computer work environment to help improve your wrist (or other) pain, then using one of these types of keyboards will be one option to consider.
The chart below will list our ratings and rankings for the best ergonomic keyboards out there on the market today. There is a key below the chart explaining the columns and it is followed by a short summary of each keyboard as well as a link to read more ergonomic reviews on the site or to buy the keyboards on Amazon.
Best Ergonomic Keyboard Ratings and Reviews
Table Key:
Keyboard Name – This column lists the name of the products being rated.
Style – This is our terminology for the type of keyboard. Split is a standard ergonomic design that is typical of most ergonomically designed keyboards. Split/Detachable is a split keyboard that detaches to two pieces. Split/Unique is what it sounds like, a split keyboard that is otherwise unique and almost has to be seen to be explained. The one Unique Keyless rating is for a specially designed keyboard that is one of a kind in the marketplace.
Price – Comparative dollar rankings. The $ is lower price, the $$ moderate price, and the $$$ more expensive.
Our Ranking – Our numerical ranking from 1 to 9 on these selected ergonomic keyboards with 1 being the best.
Buy – Link to buy the product on Amazon.
Summary for Best Ergonomic Keyboard
This list contains several good keyboard choices, but a few of them stand out as the top rated. The Microsoft Sculpt Ergonomic keyboard is the winner and top rated mouse on this list. As the latest Microsoft ergonomic offering and the successor to the Natural line this keyboard is our best choice of combined value and performance. Choose this one with confidence. The Microsoft Natural 4000 is still a top choice also and is our second place finisher, but the Sculpt beats it out as a more up to date product. You could do worse than the Natural 4000 though if you think you'll like it better. The next two keyboard selections, the Fellowes Microban and the Perixx Periboard-512B, are solid choices as well, but can't overtake the Microsoft products. The Kinesis Advantage Pro rounds out the top five and has the most unique design of these five as it utilizes a twist on the split design. This gives you the top five highest rated. These five as well as the others are rated individually below with links to the full reviews.
Individual Keyboard Notes, Reviews, and Comments
Microsoft Sculpt Ergonomic Keyboard (model 5KV-00001) – Buy – This keyboard is a fine choice for you to make and combines the best value with performance on the list. As the successor to another long time top ergonomic keyboard from Microsoft (the Natural rated below in #2) this product will serve you well.


Microsoft Natural Ergonomic Keyboard 4000 – Buy – Another fine Microsoft product in the ergonomic space this keyboard holds second place only to its more up to date successor the Sculpt.


Fellowes Microban Split Design Keyboard – Buy – The Fellowes Microban is a nice product and if for some reason you remain unconvinced of one of the top two Microsoft products then it will serve you well. It has a nice combination of features and value for money.

Perixx Periboard-512B Keyboard – Buy – The Perixx Periboard 512B is another nice product that is basically tied with the Fellowes Microban in features and value. Like that one you can choose this one if you want to skip the top two Microsoft product offerings and try something else.


Kinesis Advantage Pro Metallic KB510USB Keyboard – Buy – The Kinesis Advantage Pro is the most expensive keyboard on the list so far, but it is also the only keyboard in the top five to utilize its unique take on split keyboard design. It is probably for the user who needs a little more than the average ergonomic design, but is still a top five choice when all factors come into play.


Kinesis Freestyle2 ergonomic keyboard – Buy – This keyboard is an acceptable choice, but doesn't provide quite the value of the top five keyboards rated above. It almost made the top five though just getting edged out by the Kinesis Advantage so if one of those top five don't work for you then check this one out. The main feature with this keyboard is that is has the ability to completely detach in the middle and be placed as you desire to gain the most ergonomic benefits.


V2 Standard Goldtouch Adjustable GTU-0088 keyboard – Buy – This keyboard is an ok choice, but others rated above have a better value for money and other more preferred features.


SafeType Vertical Ergonomic Keyboard Model V902 – Buy – Similar to the orbiTouch below this rating isn't necessarily a negative reflection on this product, but more about how it relates comparatively. This vertical keyboard is an expensive option and may not be the right choice for someone if one of the other items above can be of assistance for them. If the split type designs don't help then this product could be considered.



orbiTouch Keyless Keyboard and Mouse – Buy – The orbiTouch coming in last on this list is in no way a negative reflection on the product, but more about where it falls in the marketplace. This product is a great product for someone with serious physical disability impacting their ability to use a computer, but it is a specialized product and not really needed for the average ergonomic user unless other products above don't provide any help.


And there you have our list of rankings and ratings. This is our list of the best ergonomic keyboards out there today and our reasoning behind why we have them there. Each mouse has a link to a full review on our site as well as to buy them on Amazon.
If you think there is a keyboard that we missed and should review and add to the chart then please comment below and let us know. Do you agree or disagree with our ratings? Give us feedback in the comments on that below.