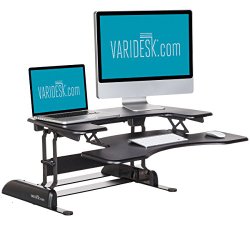 The Pro Plus 36 from Varidesk is one of their numerous products in the adjustable sit-stand desk market. Sporting easy out of the box setup, dual monitor support, a two tier design, and effortless changing from sit to stand it has many great ergonomic features.
Click here to read more about the VARIDESK Pro Plus 36 on Amazon
Product review
Varidesk is one of the leaders in the rapidly growing new area of sit-stand desks. These new designs have taken off in recent years and these adjustable style models intent is to capture the best of both worlds allowing easy transition from sitting to standing and back again.
The Pro Plus 36 incorporates dual monitor support in its space plan to support this common office requirement. It has a two tier system with the upper tier for the monitors and the second tier providing plenty of space for a keyboard and mouse. It is also very adjustable with 11 different settings to allow you to experiment and find the right one for you.
One of the great things about this product is that it comes fully assembled and ready to take out of the box and put it into action. Once unboxed it is simply set onto your existing desk and you can start putting your monitors, mouse, and keyboard on and working. Using a spring loaded lifting mechanism it can lift up to 35 pounds in 3 seconds to get you in the position you want to be in quickly.
Product Specifications are below:
Product weight: 52.15 lbs.
Dimensions (Weighted Base): 30″(W) x 24″(D)
Dimensions (Flat): 4.5″(H) x 36″(W) x 29.75″(D)
Dimensions (Extended): 17.5″(H) x 36″(W) x 41.75″(D)
Extension Height: 17.5″ (Display Surface) & 14″ (Keyboard Deck)
Work surface measures: 36″(W) x 29.75″(D) (Display Surface & Keyboard Deck)
Keyboard deck measures: 36″(W) x 14.25″(D)
Product features
-Adjustable ergonomically designed sit-stand desk
-Ready to go out of the box installation
-Dual monitor support
-Separate levels for monitors and keyboard/mouse
Summary
The speed, ease of use, and easy install make this Varidesk option a convenient plug and play option to get started with a standing desk option. When trying to incorporate standing into your daily routine this would make for an easy point of entry. With simple movement from stand back to sit you can gradually increase your time in the standing position and take a break when you need to sit down for a while. Good product from a good company.
Click here to buy the Pro Plus 36 Adjustable Standing Desk on Amazon