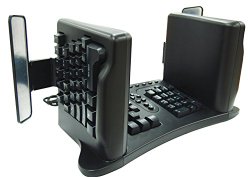 The V902 vertical ergonomic keyboard from SafeType is a intriguing product that is designed to place the user's hands in the most neutral position possible while using the keyboard. For those suffering from wrist and finger pain from using a computer keyboard that doesn't support you ergonomically then read on to learn more about the V902 and its unique vertical keyboard design.
Click here to buy the SafeType Keyboard – Black Color Model V902 on Amazon
Product review
The first thing that you notice when looking at this keyboard is that it probably doesn't look like any keyboard you have ever seen before. It incorporates a "vertical" design that is seen in some of the quality vertical ergonomic mouse models that are out there, but not as often in keyboards. The vertical design places your hands in the more neutral position and eliminates extension, deviation, and pronation by its design. In addition, the design doesn't allow a user to adjust it out of its ergonomic configuration and negate these benefits.
The keyboard layout will take some getting used to, but it is laid out in a manner that is designed to be learned intuitively by those already familiar with a qwerty style keyboard. The left and right vertical keys match up primarily to the letters on a standard keyboard and the middle of the keyboard brings you a ten key number pad and the direction (arrow) keys. The keyboard also includes two mirrors on the outside of the vertical keyboards in case you want a little help in seeing the keys while you are typing.
What are people saying about this product? The reviews give this keyboard high praise for helping to lower or eliminate wrist and hand pain while using the computer. This is what is is intended to do and most reviewers have agreed with that assertion from SafeType. One con should be mentioned that could apply to specific users. One important note is that this is not for a hunt and peck style of typist as the keys are visible with the mirrors, but it is intended for someone with touch typing ability. A hunt and peck typist will have a hard time using this keyboard.
Product features
-Vertical ergonomic design for the most neutral typing position
-Design features are built in and cannot be accidentally adjusted improperly by the user
-Easy installation and setup (USB or PS/2)
-Great design and quality construction
Summary
This vertical ergonomic keyboard from SafeType is one to consider if you want to change up your workspace to try to deal with serious hand or wrist pain. It may take a little getting used to with its revolutionary design, but once the small learning curve is overcome the gains in comfort may be worth it. If you are looking for relief then this is one to consider. For more suggestions and ergonomic keyboard reviews check out: http://ergonomicallyspeaking.net/what-best-ergonomic-keyboard-wrist-pain/
Click here to buy the SafeType Keyboard – Black Color Model V902 on Amazon