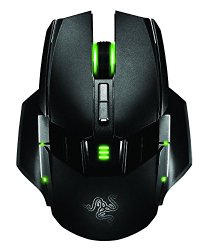 When it comes to premium mice for gaming or CAD, Razer is the industry leader in quality and reliability. The Razer Ouroboros Elite Ambidextrous Gaming Mouse lives up to the Razer name, offering an outstanding, customizable, and ergonomically designed mouse at a reasonable price. This mouse is packed with a ton of premium features that you can't get anywhere else, making it a must for serious gamers or computer users.
Click here to read more about the Razer Ouroboros Elite on Amazon
Product review
For 16 years the Razer name has stood for quality in high-end gaming peripherals and the Razer Ouroboros Elite is no exception. It offers so many small touches to the technology, design, and even the software, that there's no question that this is one of the best gaming mice on the market.
Its ergonomic design and ambidextrous usage possibilities make it a serious choice for an ergonomic gaming mouse. Gamers are the intended target of this mouse, and its ergonomic comfort and quality make it a strong option not just in that space, but for any heavy mouse user.
One of the key features for all gaming mice is the resolution. At 8200dpi with a 1ms polling accuracy, the Ouroboros Elite is incredibly responsive and sensitive. For comparison, many typical mice use a resolution of 2200dpi and 3ms polling, which makes the Razer over three times more accurate.
The flexible design of this Razer mouse really has to be felt to be appreciated. This mouse has 3 movable body panels, so it can be adjusted to fill your hand comfortably, reducing strain on your wrists and bringing the buttons closer to your fingertips. The ergonomic possibilities are good with this flexibility. The ability to adjust to multiple hand positions or for right or left handed use is a nice feature.
Finally, the technology behind this ergonomic gaming mouse is absolutely top of the line. From the 4G, ultra-high definition laser to the twitch trigger that actually increases the already incredible 8200dpi resolution, there's not much that Razer hasn't thought of. The included software runs on both PC and Mac, making the Ouroboros fully customizable on any platform.
The Ouroboros Ambidextrous gaming mouse can run continuously for 12 hours on one AA battery and it comes with a supplied rechargeable Nimh battery.
Product features
-Ambidextrous design for right and left-handed gamers (see more left handed mouse options here)
-Ultra-high 8200dpi accuracy, with a trigger to increase sensitivity even further
-Works in both wireless and wired mode with included USB cable
-Runs for 12 hours on a single AA battery
-Cutting-edge 4G laser sensor
-Adjustable body panels to customize the feel of the mouse in your palm
-11 fully programmable buttons
-1ms polling response time
-Compatible with PC and Apple computers
-Backed by a 1-year warranty from Razer
Summary
If you're serious about gaming and in need of an ergonomic mouse with lots of features then there's just no substitute for a Razer mouse. The Ouroboros Elite mouse is packed full of premium features and options, making it one of the strongest gaming mouse options on the market. While it's a little on the expensive side the fact is that the good points about this mouse far outweigh the bad. This mouse is a quality choice if you want a high-end mouse that delivers on its promises.