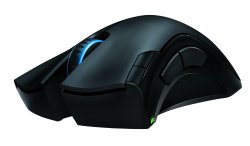 The first thing that you notice when looking at the Razer Mamba is that it is high quality and is displayed as such. The packaging is made to put the gamer on notice that isn't just any ordinary mouse, but one that is intended to deliver on its promises that are made by its higher than average price tag. Razer has billed this one as the first truly wireless gaming mouse. Does it deliver? Let's look.
Click here to check out the Mamba
Product review
The first thing to notice is that this mouse exudes high quality in its design and it is mostly seen as performing in a high quality manner as well. With a great look and a cool logo this device is definitely made with aesthetics as well as ergonomics and performance in mind. The charging device is also very nice looking and will make a great look at your gaming desktop.
That's just looks though which could be considered just advertising by some. The real truth will be in performance. On this front as well, the Razer Mamba delivers. With outstanding wireless performance (wired is supported also) with a reported 1 ms lag only between wireless and wired times this is a strong entry to the gaming mouse category. Using a 4G dual sensor system with laser and optical systems providing good calibration and movement the responsiveness of this mouse is fantastic. As one way to put it, if you and your opponent respond at the same time, you win because of the response time.
The software supporting the Mamba is also good. Downloadable and not CD based it is easily installed and once up and running you can customize just about everything. All 7 buttons can be defined to your tastes and saved. As an additional feature, up to 5 profiles can be setup on the mouse for individual games so that that can be customized as well to a more detailed level. In addition to the software support, the device can be configured by the color LED with up to 16 million color combinations as suits your gaming style and preference.
With a reported 14 to 16 hour battery life on continuous play (and the ability to charge via the cable when running in wired mode) this device will give you a lot of playing time. And of course when playing that long there is bound to be the need for comfort as well. The Mamba meets expectations here as well with a comfortable grip that is rated by many for long sessions in comfort.
Product features
-Ergonomic Gaming Mouse
-Amazing Gaming quality wireless response
-Up to 200 inches per second/ 50g acceleration
-4G Dual Sensor System
Summary
The Razer Mamba is a great entrant into the category of ergonomic gaming mouse. It has the top notch wireless technology and response, the great aesthetics to look good, and the ergonomically designed comfort to help make long gaming sessions easier. With strong battery life and USB charging when playing as wired these sessions can go as long as you like. You can also see more ergonomic mouse reviews by clicking here: http://ergonomicallyspeaking.net/what-best-ergonomic-mouse/