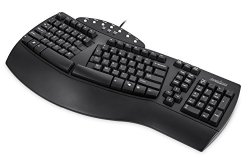 The Perixx Periboard-512B is an advanced and comfortable keyboard that features a split-key layout for increased ergonomics. This keyboard goes above and beyond just ergonomic comfort, including premium features like a full number pad, wrist rest, and programmable multimedia hotkeys to make common tasks quick and easy to do with just the press of a button.
Read more about the Perixx Periboard-512B keyboard on Amazon
Product review
The first thing you'll notice about this Perixx keyboard is its high quality. Made from high-impact plastic with advanced microswitches, this keyboard is built to last for a long time. The switches themselves resist dirt buildup between the keys which have a pleasant, springy feel to them. The manufacturing quality of this keyboard also makes it incredibly quiet, with no need to bang down hard on the keys as you type.
When it comes to ergonomic comfort the Periboard-512B keyboard is a contender. The included plastic wrist rest provides a convenient place to rest your hands as you type reducing stress and strain on your wrists. When combined with the split-key layout, this keyboard provides a lot of ergonomic bang for the buck. If you spend a lot of time typing at the computer you're sure to appreciate the time and effort that Perixx took in designing this device.
One of the strengths of the Periboard-512B keyboard is how easy it is to install. Whether you have a Mac or Windows PC, it's easy to upgrade your current keyboard. The only step that you need to take is to plug it into a USB port and your computer will take care of the rest.
The fact that this keyboard is so comfortable makes it a good choice for anyone who is looking for an ergonomic alternative to help ease their wrist pain. While simply switching to an ergonomic split-key keyboard won't entirely eliminate the risk, it does take a lot of pressure off of your wrists and elbows. If you already have problems with these issues, as well as hand and wrist pain, arthritis, or limited mobility, switching to an ergonomic keyboard can help minimize your discomfort more than other traditional keyboards on the market.
Mac users should keep in mind that although this keyboard works with a Mac the keys are only labelled for Windows. That means you'll be using the CTRL key in place of Command, and ALT key instead of Option. It's a small adjustment, but if you want a keyboard that matches up perfectly then you'll need to be extra careful to find one with the standard Mac layout.
Product features
-Full-size keyboard with an ergonomic layout
-Programmable multimedia keys are great for movies, music, and browsing the web
-Easy to install USB interface
-Integrated wrist support
-Full-size number pad is perfect for office use
-Compatible with all desktops and laptops, including Apple and Windows PC
-6' connection cord is long enough for nearly any desktop
-Supported by a 30-day satisfaction guarantee
Summary
There's a lot to like about the Perixx Periboard-512B keyboard. It's simple to install, solid and durable, and has features that can make your life a little bit easier. The fact that it has multimedia keys along the top and a full-size number pad make it a great choice for home and office use alike. If you're looking to upgrade or replace your current keyboard with an ergonomic alternative this offering from Perixx provides comfort and reliability at a good price. This keyboard came in fourth on our list of the best ergonomic keyboards which can be viewed here: http://ergonomicallyspeaking.net/what-best-ergonomic-keyboard-wrist-pain/
Click here to buy the Perixx Periboard-512B keyboard on Amazon