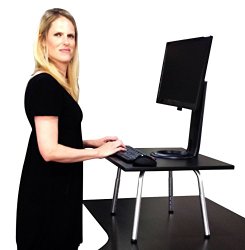 Standing desks are great for your back and legs but they don't always come cheap. With the Original Stand Steady Desk you can convert your existing desk into an adjustable standing desk without having to pay a premium price. In addition to the benefits of using a standing desk, this desk accessory lets you use your original desk as a storage area, adding over three square feet of space. If you're ready to take your workspace to the next level as a standing desk then considering adding this to your toolbox.
Click here to read more about this Stand Steady desk on Amazon
Product review
Pros:
Essentially a heavy-duty work surface on adjustable legs, the Stand Steady Desk converts your desk to a standing desk by placing it on top and elevating your computer and phone to roughly waist-high. It couldn't possibly be easier to set up and if you find that a standing desk isn't for you it's just as easy to remove as it is to install. All in all, this product is a great way to give standing desks a shot and see if you like using them.
This desk has a durable chip-resistant surface and adjustable aluminum legs. It's a simple, durable design that works well. There are little touches of quality, like the rounded and rubber-coated edge and the ability to tilt the desk slightly, making it easier to type. It assembles quickly and easily in less than 5 minutes from the box so you'll be able to get to work on your new standing desk as soon as it arrives.
Standing desks are an excellent way to increase blood flow to your legs, promote good posture, reduce back pain, and even burn calories effortlessly. After you've used one for a few minutes it's easy to see why you'd want to make the switch to a standing desk. If you're suffering from back pain, numbness in your legs, or sore shoulders it might be time to give a standing desk a try and see if it helps you.
Cons:
When using this desk you don't want to lean against it or it may knock over. While this desk extension easily supports computer equipment, books, and anything else up to 75lbs, it does not attach itself in a fixed way to your original desk meaning it could be pushed over if you get careless and lean against it with your weight.
Product features
-24" long by 20" wide work surface
-Stain-resistant, water-resistant work surface
-Adjusts easily to add between 11 1/4" and 15 1/4" to the height of your desk
-Aluminum legs have non-skid rubber feet
-Assembles easily for immediate use
-Turns your existing desk into a convenient storage shelf
-Desk surface tilts for easier typing
-Made in America
-Weighs 11lbs and supports 75lbs 
Summary
This Stand Steady ergonomic desk is a great way to try out a standing desk without paying big money for a new desk. It does have some limitations and while the aluminum legs have non-slip rubber feet it can be pushed over if you try to lean against it. Still, the fact that it creates an additional storage area and couldn't be easier to set up counts for a lot and when it comes right down to it this desk is a good value if you're considering standing desk products.