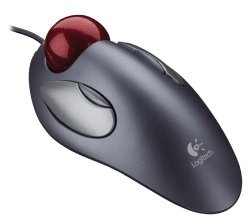 The Logitech Trackman Marble Mouse is a possible ergonomic upgrade to your laptop or desktop computer if you are looking to go with a trackball style input device. It features a big, easy to use wheel that lets you keep your hand in one comfortable position while using your computer. If you think you may be at risk for carpal tunnel syndrome, have arm and wrist pain, have a small desk, or are just ready to update your current mouse with something with more ergonomic features then the Trackman Marble Mouse from Logitech is a contender for your choice.
Click here to learn more about the Logitech Trackman Marble Mouse on Amazon
Product review
One of the strengths of the Marble Mouse and indeed all trackball-style computer mice is the fact that it can be comfortable to use for long periods of time even if you suffer from arthritis or pain in your arm or wrist. The fact that it's stationary also makes it a great choice for smaller desks, mobile workstations, or other areas where a traditional mouse takes up too much space.
The Logitech Trackman is very easy to install. All it takes to setup this USB mouse is to plug it into your desktop or laptop computer. Logitech includes optional software that can be useful if you want to customize the buttons or trackball sensitivity, but this trackball mouse will start working on any Mac or Windows PC as soon as you plug it in.
Although many mice are going cordless for convenience, this one is one of the exceptions. The reason behind this decision is that the Trackman doesn't need to move around your desk, and so having it attached to your computer with a USB cord isn't as much of an inconvenience as it would be with other mice. In fact, the fact that the Trackman doesn't require batteries or Bluetooth to work may be a positive feature.
One downside is that it can take a little getting used to if you don't already use a trackball style mouse. Since you move the cursor with your fingers instead of your wrist, you may find yourself trying to slide the entire mouse around at first. It doesn't take much time to adjust, and many users come to prefer this style of mouse after a few days.
While most users probably won't mind much, the extra buttons on this 4-button mouse are a little on the small side. Unless you install the Logitech software they don't do much anyway, but they can be tough to click if you rely on them heavily or often. On the other hand, the main mouse buttons that most people will use are large and comfortably placed.
Product features
-Ambidextrous design is perfect for right and left-handed users
-Large trackball for smooth operation
-Uses laser tracking for accuracy and control
-4-button design, can be programmed using the included software
-Slim and ergonomic for outstanding comfort
-Uses a USB connection for easy installation
-Compatible with Mac and Windows
-3-year manufacturer warranty from Logitech
Summary
The Trackman Marble Mouse from Logitech is a very comfortable, accurate, and easy to install mouse. The fact that it uses laser control, the same as most modern mice, will save you time when it comes to maintenance. It has programmable buttons for left-handed users or anyone else who wants that level of control.
If you're looking for a trackball style mouse, chances are good that a Logitech is in the equation, since they're some of the most affordable, high-quality computer mice on the market. This product is no exception as it came in second in our list of best trackball mouse reviews and left handed mouse rankings. If you're looking for a new trackball mouse, then check out this offering as it brings all of the quality that Logitech is known for into a comfortable, compact, easy to use design.
Click here learn more about the Logitech Trackman Marble Mouse on Amazon