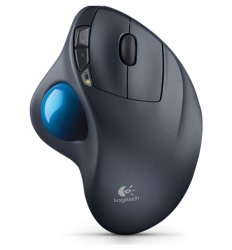 Logitech's M570 Wireless Trackball is an ergonomic wireless trackball which features a laser sensor. The wireless trackball is compatible with Windows and Mac OS. In addition to its conspicuous thumb-controlled trackball, the device features back/forward quick navigation buttons, a pointer-finger scroll wheel and a programmable one-touch button. It also comes with a unifying wireless receiver which can wirelessly link up to six devices to your computer. It is powered by AA battery and offers solid features. 
Follow the link to find out more about the Logitech M570 Wireless Trackball on Amazon
Product review
With this device you will at first notice this trackball's comfort. In addition to the ergonomic and hand-conforming shape the range of surfaces on which you can use the trackball is large. Whether placed on the desk or even the bed the trackball will continue to offer great precision and control.
The M570 trackball is full of controls. With more than five controls on the trackball, controlling your computer will be way and programmable. In addition to offering the ability to flip quickly over long documents or lengthy lists, you can program some of the controls to suit your specific needs.
This device's wireless transmission uses 2.4 GHz. The wireless range can extend up to 30 feet away. On another note, the trackball can run for 18 months on a single AA battery, which is impressive.
The wireless receiver that comes with the trackball exceeds most expectations. You can also connect up to five other devices to your computer wirelessly using the receiver. Moreover, the receiver is quite small and its presence on your laptop will not be an inconvenience or a bother.
One of the possible problems if you are a lefty is that it can only be used by right-handed people. Many trackballs nowadays are ambidextrous, so this could be a problem depending on the user.
 
For first time users this trackball may need some getting used to as the additional controls may take some getting used to. This is especially true for the controls that offer programmability options, as they require some tweaking and software downloads from Logitech's website. However, more controls are great for gamers and are always a plus as an option for those that need or want them. 
We also should note as minor issues that the scroll-wheel on the M570 might seem a bit resistant for some. The physical placement of the scroll-wheel may also pose a problem for some users, as it is a little out of reach for people with tiny hands. 
Product features
-Back/Forward quick navigation buttons
-Thumb-controlled trackball with adjustable cursor speeds
-Sculpted hand-conforming shape
-Pointer-finger scroll wheel
-Programmable one-touch buttons
-Unifying wireless receiver
-AA battery powered
 
Summary
Despite a few things that could be improved, the Logitech M570 Wireless Trackball is a good option when it comes to comfort and control. This trackball fares pretty well against its few competitors within the same price range and came in first on our ranking of the best ergonomic trackball mice. If you are in the market for an ergonomic trackball then the M570 is a good option.    
 
Follow the link to buy the Logitech M570 Wireless Trackball on Amazon