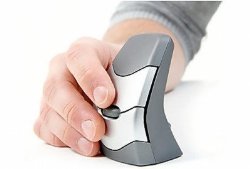 The Kinesis DXT is an interesting ergonomic mouse from the same company that put two ergonomic keyboards on our keyboard rankings. With a few features that jump out such as an ambidextrous design and super fast charging capability this mouse is very intriguing. Let's take a more detailed look at this mouse below.

Click here to read more about the Kinesis DXT Ergonomic Wireless Mouse 2 on Amazon
Product review
The DXT wireless mouse 2 has a vertical design that allows it to be used interchangeably from right to left handed usage. To make the change all that is required is a quick flip of a switch on the mouse and you are changing hands. For users who are trying a strategy of swapping hands this feature would be beneficial.
One of the first things that jumps out about this mouse compared to some of the other vertical mice out there is that it is very compact and almost small in comparison. Unless you have tiny hands this is not going to be a whole hand mouse. That is a feature not a flaw as Kinesis intentionally made a mouse that was more focused on the fingers and hand for its movement then the arm and shoulder. Their belief is that using this grip which is more like holding a pen is a more ergonomic, natural, and functional way of using a mouse. For this mouse you will have to change up your grip to more of a pen style grip which may take some practice to get used to.
There are two buttons and a scroll wheel on the DXT. With light click buttons they are designed to minimize the force necessary to engage a mouse click which should benefit users suffering from pain in their hands and wrists. The optical resolution is adjustable to 500, 1000, 1500, or 2000 and it is plug and play ready. The wireless version operates from a micro USB dongle for wire free mousing. There is a wired version available as well if that is preferred.
And did we mention the charging speed? The rapid charging system gives 2 hours of usage time from a 30 second charge. With a full charge cycle of 90 minutes this mouse will go for up to 2 weeks of use.
Product features
-Left or right handed mouse
-Fast charging speed
-Light click force on buttons
-Vertical ergonomic design
Summary
The real options to evaluate are how the smaller size and the pen style grip will work for you. If this seems appealing and like it would work to improve your hand and wrist pain then the DXT may be the right choice for you. It has other factors working in its favor if those sound good – recognized brand in the ergonomic market, ambidextrous usage, and light force click buttons.