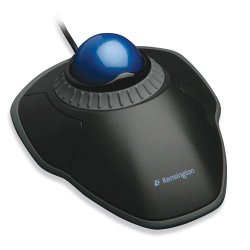 The Kensington K72337US Orbit Trackball with scroll ring is a relatively recent addition to the Kensington Trackball series and offers another choice for an ergonomic trackball selection. It comes with a 4 pin USB Type A portal connection and can be used with both Windows and Mac OS. This trackball features optical movement detection technology with wired connectivity. Although it may seem a bit similar to the previous models, this one is slightly smaller and occupies far less desk space than some of the previous models.
Go here to read more reviews of the Kensington K72337US Orbit on Amazon
Product review
The size of this trackball is generally just about right and is suitable for those with both large and small hands. This provides a certain level of convenience and comfort which of course leads to better ergonomic performance and enhanced productivity.
The trackball by being centrally placed offers an ambidextrous design and caters for use by both right hand and left handed users. The ball also features a rubberized texture that provides the user with click-free fast scrolling capability. The ball is precisely positioned under the fingers and is capable of spinning freely and smoothly. 
Another good thing about this trackball is that no additional software has to be pre-installed before you can use it. The fact that it is also compatible with the most of the major operating systems makes it quite convenient and easy to get started.
Many users have praised this trackball's ergonomic design which provides comfortable wrist positioning to prevent exhaustion and tiredness. The trackball is responsive, well designed, comfortable and easy to use. It is also a good choice for some users with disabilities who cannot use a regular mouse. It is also very reasonably priced when compared to other similar units on the market. Its ambidextrous design makes it well suited for use in the left handed mousing position as well.
The Kensington Orbit trackball seems a little delicate and might seem a little small to some users. It measures 5 x 2 x 4.5 inches with the ball measuring just under 1.5 inches in diameter. Some users have reported a few contact issues with the button because they sometimes heard or felt unwarranted clicks. The K72337US Orbit trackball only has two buttons. While this may be okay for some users additional buttons would've been welcome for others. For users who love gaming it is worth noting that the center ring may get in the way with some games.
However, besides these few minor issues this is a nice overall ergonomic trackball unit.
Product features
-Operating System Compatibility: Microsoft Windows XP, Windows Vista, Windows 7, Windows 8, and Apple Mac OSX
-Dimensions: 5.5 x 2.0 x 4.5 inches
-Weight: 0.65 lbs
-Connector Type: 4 pin Type A USB portal
-Optical movement detection technology
-Wired connectivity
 
Summary
Despite a few shortcomings, the Kensington K72337US Orbit Trackball remains one of the better ergonomically designed trackballs on the market today. It is best suited for users who are looking for speed, performance and sleekness. It is also very affordable making it a great choice for people on a budget.