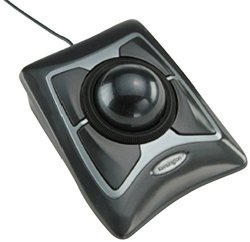 If you are looking for a good ergonomic trackball mouse with a long track record and solid performance then this product from Kensington may be for you. This nice looking trackball mouse has some good features and strong performance to be considered. Made by Kensington who has a lot of experience in the trackball segment of the market it is clear they know a thing or two about what they are doing.
Click here to read more about the Kensington Trackball Mouse (K64325) on Amazon
Product review
This trackball mouse starts off with a bang featuring 4 large buttons surrounding a large trackball that is itself surrounded by a scroll ring and has plenty of input options available. In addition the 4 buttons are fully customizable with Kensington's TrackballWorks software. Assign all of the buttons whatever functions you want to occur on clicking. The scroll ring while it can be tight until broken in scrolls the cursor easily up or down the page or screen you are viewing. Same goes for the ball itself. Starting out a little stiff at first once it is used for a few hours it has a good glide to it that moves very easily.
The rather large ball on this device has very accurate and smooth cursor control which is intended to minimize the movement needed for controlling the movement on the screen. Using DiamondEye technology it is very precise in its movements. It comes with a detachable wrist rest that can be given a try, but for many users it will either be a neutral feature or even a distraction.
The design of this trackball makes it usable by both right and left handed users as it is ambidextrous in design. This makes it one of the good options available for lefties or for someone switching up between hands to help with wrist pain.
Other features include that it is compatible with either Windows or Mac and it does come in both wired and wireless versions.
Product features
-Ambidextrous design for use with either hand (#3 on the best left-handed mouse list)
-Fully customizable 4 button design
-Scroll wheel and large ball with good control
-Detachable wrist rest
Summary
This trackball is a solid performer in the category and is well worth a look if you have decided on a trackball product. With good customization and precision input control this one has the features that a trackball needs to be rated highly.