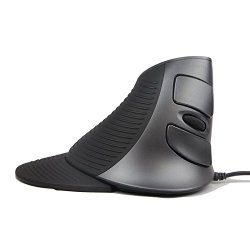 This vertical mouse from J-Tech Digital has a little bit different look and feel from most of the other vertical mice on the market. It runs a little larger and a bit more vertical than most while having several other good features. With a good basic ergonomic design does it live up to its potential? Keep going to find out.
Click here to read more about the J-Tech Digital Vertical Mouse on Amazon
Product review
This mouse has a good vertical design with several ergonomic features. It has five buttons: a right and left mouse click, a non-clickable scroll wheel, and back and forward browser buttons. The palm is placed on the cushioned portion and then the index and middle fingers activate the left, right, and scroll buttons which are located where they can be easily reached in this position. The thumb sits in an indented rest where the back and forward buttons are located. The mouse fits nicely in the hand and has good responsiveness when scrolling. It also has adjustable DPI with the easy to reach button on the top of the mouse if you want to change it quickly. The click pressure is in the range of average to requiring a little less than average so it fits nicely in the click performance rating.
If you like your mouse vertical then this one may be for you. It sits very much in a vertical position that makes it feel like reaching for the mouse is reaching for a can of soda. The attached palm rest is a nice feature to keep your hand from dragging the desk, but if it doesn't work for you it is easily removable. This mouse is for right handed users only with no left handed option available.
This one does come in either a wired or wireless option and the wireless option runs on 2 AAA batteries. As an added interesting feature the mouse is guaranteed by the manufacturer for 3 million button clicks.
Product features
-Vertical ergonomic design
-Removable palm rest
-5 button mouse: left, right, scroll wheel, back, and forward
-3 million click guarantee from the manufacturer
Summary
This mouse has some interesting features that differentiate it from the rest of the vertical mouse pack. With an above average amount of verticality in the design while maintaining other good features like click pressure and multiple buttons this is a strong contender for your selection. If the "like reaching for a glass or can" setup is what you are looking for to maintain good wrist position then check this one out further.
Click here to buy the J-Tech Digital Ergonomic Mouse on Amazon