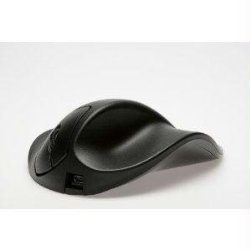 The HandShoe mouse by Hippus got its start in research and development from a Dutch medical university. The word handshoe means glove in Dutch and it is supposed to fit your hand that naturally, like a glove. This is an interesting mouse with a really high tech looking design.
Click here to read more about the HandShoe Wireless Ergonomic Mouse on Amazon
Product review
The HandShoe mouse is an ergonomic mouse that puts a real twist on the standard mouse design while keeping some of the basics. While it stays with the flat design it still looks a lot different than a standard mouse at first glance and you can tell some thought went into its ergonomic design. The design is very comfortable to the hand and provides solid wrist and hand support with a good base.
This mouse gives a very solid base of support with the hand fully resting on the mouse when in proper use. The hand and all of the fingers including the thumb set on the mouse in good position. Because of this it is somewhat larger than some of the other ergonomic mice on the market, but it is designed this way. Because of this design not only is the wrist and hand comfort there, there isn't any contact between the skin and the desk area which eliminates any skin irritation possibility as well.
The HandShoe mouse has two buttons and a scroll wheel. They are positioned in the normal mouse style with a left and right mouse button and the scroll wheel in between. There is no thumb button by design as they didn't think it made for the best ergonomic performance. The buttons are designed to only need a light click to activate them aiding in the ergonomics of the mouse.
This mouse has good tracking and responsiveness. The battery life is generally reported as good and the battery charges via USB connection wired to the computer. This mouse is available in three sizes: large, medium, and small. The sizing methodology is to measure the length from the wrist to the top of the ring finger. Under 6.75 inches is small, 6.75 to 7.5 inches is medium, and over 7.5 inches is a large.
Product features
-patented ergonomic design
-design originated with a Dutch medical university
-Available in right or left handed design (this mouse came in #4 in our ranking of the best left handed mice)
-complete hand support for all fingers and thumb
Summary
This mouse came in third in our list here on the site. The HandShoe ergonomic mouse has a unique design intended to provide support and comfort to your hand and wrist. It has multiple choices in sizing and solid basic features. This mouse gets generally good reports and is a solid option for an ergonomic mouse selection.
Click here to buy the HandShoe Wireless Ergonomic Mouse on Amazon