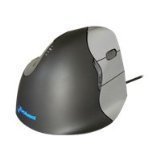 The Evoluent Vertical Mouse is one of the most widely used ergonomic mouse products on the market. Definitely a strong player in the vertical mouse share of the market, Evoluent has built a reputation for quality products with good features. With versions of this mouse for different hand sizes and wired and wireless connectivity they are paying attention to what their users want.
Click here to read more about the Evoluent VerticalMouse 4 on Amazon
Product review
Evoluent has incorporated a patented design that is intended to prevent forearm twisting by holding your hand in a neutral, relaxed, and upright posture. This design is sometimes referred to as a handshake position to give an idea of how the hand sits. The buttons are all in easy reach of the thumb and fingers allowing for the minimum of finger movement to operate the mouse.
In the VerticalMouse 4 there is an improved thumb rest over earlier versions for more support of the thumb and the base has a flange that extends to keep the pinky supported and stop it from rubbing as the mouse is moved. The device has a good feel to it with the material of good quality that gives a good grip feel in the hand. You can feel the design features that were thoughtfully added into this mouse.
This mouse has 6 programmable buttons that can be customized as well as some combination clicks that can be made as well. There are three finger clickable buttons on the hand side and two thumb clickable buttons on the thumb side. The mouse wheel located on the hand side is also clickable as well as scrollable. There is also a cursor speed button on the mouse that is adjustable from the mouse with a status on the mouse as well.
This mouse has multiple different versions to support user needs. There is a wireless version, a left hand version, and a small hands version of this mouse as well as the standard one that has been previously discussed. As a matter of fact in our ranking of the best left handed mouse this product came in first place.
Product features
-Patented ergonomic design for a neutral hand position to relax your hands
-Quality brand with a history of ergonomic design
-Highly customizable with 6 different buttons
-Right and left hand versions available
Summary
The Evoluent VerticalMouse 4 is a top contender in the ergonomic mouse marketplace and took top rating in our listing of vertical mouse reviews and came in 2nd in our overall top ergonomic mouse list. It is a highly rated product by us in the vertical mouse category. It has a good track record and a lot of great features. If you are looking for a vertical ergonomic mouse then this is a great choice.
Click here to buy the Evoluent VerticalMouse 4 "Regular Size" Right Hand (model # VM4R) on Amazon