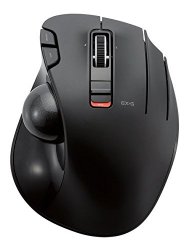 This ELECOM wireless trackball is another entrant from this company into the ergonomic trackball space and both of them are clear competitors to other leaders in the space. With a thumb operated ball on this one and 6 clickable inputs including the tilt enabled scroll wheel there are many good pieces to this one's design.
Click here to read more about the ELECOM Trackball M-XT3DRBK on Amazon
Product review
The starting point for this device is the thumb operated trackball on the left side. There are 6 other buttons when including the clickable scroll wheel. There are two on the left side of the device above the ball and then two in the normal space that you would find left and right click on a mouse with one extra on the right for the ring finger. The high/low DPI settings switch is also on the top of this trackball. All of the buttons are customizable using the ELECOM software to map them to your preferences. In addition to the clickable scroll wheel it is worth noting also that it supports tilt on the scroll wheel also for additional control.
The thumb controlled ball on the left side has good responsiveness and scroll control. This makes it easy to control the cursor or screen with precision regardless of whether you are gaming or getting down to serious business in Excel. As mentioned in the paragraph above the DPI settings are also adjustable and are either 750 or 1,500.
This mouse also comes in a left-handed version if you are a lefty or are implementing a switch hands strategy. There is also a wired version if you don't want to go wireless.
Product features
-6 customizable input buttons
-Clickable and tiltable scroll wheel
-Right and left-handed versions (see additional left hand mouse options)
-Available in wired or wireless models
Summary
The ELECOM trackball is a good entrant into the market and definitely brings some competition to the other market leaders. With some good ergonomic features, 6 programmable buttons, and multiple versions for handedness or wired/wireless there is a lot of variety in this one. If you want to give a thumb ball device a try then this one is worthy of consideration. If this one doesn't catch your eye then you can read additional trackball reviews here: http://ergonomicallyspeaking.net/best-trackball-mouse-reviews/
Click here to buy the ELECOM Trackball Mouse on Amazon