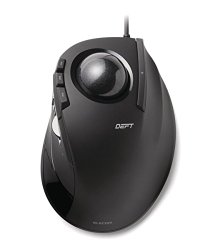 Elecom has brought an interesting ergonomic trackball mouse to market with this index finger operated trackball. With 8 customizable buttons and a clickable scroll wheel the feature set starts out very positively. With lots going on the left side where the thumb has a lot to do how does it hold up to further review.
Click here to read more about the ELECOM Trackball Mouse M-DT2URBK on Amazon
Product review
This trackball starts out with a good list in its favor. The 8 buttons that can be customized to the user's preferences are a big choice compared to other trackballs available. It also includes a scroll wheel that not only is clickable but also can be tilted up or down to control movement on your screen. All of these input options plus the good scrolling ball itself are positives. A concern is that of the buttons available the thumb is going to get a workout using them. Of the 8 available clicking options (includes the scroll wheel) 7 of them are thumb activated on the left side of the trackball. The other button directly to the right of the ball is activated by either the middle or ring finger. The three buttons and the scroll wheel are in accessible areas for the thumb, but the three top right buttons can be a little difficult to reach with the thumb.
The tracking and control on this trackball is nice and smooth. The ball gives good control of movement on screen with nice responsiveness. It is switchable from 750 to 1500 DPI for user customization on the control. This device and the ball are a little smaller than some other competitor trackballs so be aware of this if you have larger than average hands or have had issues with smaller devices working for you in the past. It is also worth noting that unlike some other trackballs this device is not left hand usable and there is no left hand option available.
This mouse is compatible with both Windows and Mac products. There is also a wireless version of this Elecom trackball available that runs on 1 AAA battery and a USB dongle. The reported battery life is good on the wireless device with good connectivity.
Product features
-8 customizable buttons including clickable, tilt scroll wheel
-Adjustable 750/1,500 DPI
-Smooth index finger controlled ball
-Wired and wireless versions available
Summary
This one has many good things to recommend it with a few concerns to be aware of when purchasing. The numerous programmable input buttons and clickable scroll wheel are solid features. While being a little small compared to other trackballs the ball is smooth and gives good response and control. If you don't have large hands or have been ok with smaller input devices in the past then this is a good choice to consider. To see the full list of trackball mouse reviews go here: http://ergonomicallyspeaking.net/best-trackball-mouse-reviews/