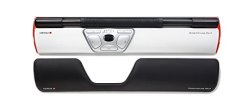 The RollerMouse Re:d is the latest in the line of ergonomically designed products from Contour Design. This ergonomic mouse alternative brings even greater precision and control while continuing its easy on the wrists and joints performance. With several unique design features this is one advanced ergonomic product.
Click here to read more about the Contour Design RollerMouse Re:d on Amazon
Product review
The Re:d is designed to be used below your keyboard on the desk thus allowing you to have less need to move around to grip and use a mouse. This is one of the many ways that it is designed to make your workflow more ergonomic. Because of this design model you can more easily incorporate ergonomic ideas such as changing up hand and finger position and using different hands in an easier manner than a traditional mouse.
The rollerbar at the top of the device uses a 7SENSES™ technology from Contour that allows for super precise cursor movement and control. This is one of the coolest features of this device as it is designed to have easy travel using the rollerbar and very precise control leading to ease of use and less strain in the process.
The key functions at the bottom of the device beneath the rollerbar are also well designed as well as being fully customizable. In their standard setting one click copy and paste buttons, a scroll wheel, left and right click buttons, and two other really cool buttons: a one touch double click and an adjustable scroll speed. With the one touch double click as you would expect no more need to hit the extra click to open programs for example, just the one button. The adjustable scroll speed can really come in handy when using the device for more precision applications like CAD or drawing and design tasks. But that doesn't mean its not helpful for the average user as well. The adjustable and customizable features mean that it will be able to be used for how you want and need to use it.
Let's not forget aesthetics either. The look doesn't matter to everyone, but this is a good looking device that looks well made as well as pleasing to the eye. With an aluminum housing and quality rollerbar material, this device looks the part of a top quality ergonomic mouse replacement.
Product features
-Unique design centrally positioned below keyboard minimizes hand travel
-Rollerbar is very comfortable and easy to control
-Customizable input buttons let you use it as you want to
-Precision cursor control makes a perfect device for CAD or other design use as well as the normal user
-Compatible with both PC and Mac operating systems including Windows 8
-Good looking and aesthetic design with aluminum housing
Summary
The RollerMouse Re:d is a well designed and laid out ergonomic mouse replacement. Coming from a quality company this looks like one quality product that could be added to an ergonomic office layout with great success. If this one doesn't do it for you then check out our other ergonomic mouse reviews.
Click here to buy the Contour Design RollerMouse Re:d on Amazon