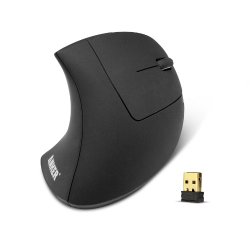 Anker brings this entrant to the vertical mouse competition and with a lower price of entry than many of the other models out there. This device has been around for a little while now and has garnered pretty good ratings overall. Does the lower price point bring any disadvantages with it? Let's read on.
Click here to read more about the Anker 2.4G Wireless Vertical Ergonomic Mouse on Amazon
Product review
Anker's vertical mouse incorporates a vertical design that intends to emulate a handshake position when using the mouse. This mouse has 5 buttons overall with the thumb side having a next and last page feature and the hand side having left and right mouse click buttons. The top of the thumb side also has the DPI selector to change the optical resolution tracking from 800, 1200, and 1600 as needed. The tracking is reported to be excellent on this device with good readings on a lot of surfaces. There is also a scroll wheel.
There is decent thumb support built into this mouse, but there isn't a lip or rest that is specifically for thumb support. On the hand side of the mouse the pinky finger doesn't have a specific support point and can drag on the mouse pad or desk when in use. This is something that could concern potential users of this mouse.
The quality of the build is of solid material and most reports seem to be complimentary, but a few commenters have mentioned concerns over long term durability. This is probably driven by this mouse's low price point in comparison to its competitors, but it has a good track record as a value option. Based on performance alone this device seems to be a decent entrant into the market especially where cost is a concern, but there are some limitations in comparison to the competition such as those mentioned above as well as some features that others have and this device doesn't such as button customization options.
In the wireless version reviewed here there is a nano receiver that connects via USB and interfaces to the mouse. There is also a wired USB version available which can be viewed here. The wireless version of the mouse has a battery saving feature where it will turn off after 8 minutes of inactivity and then the left or right click buttons being clicked can wake the mouse.
Product features
-Ergonomic vertical design that supports a neutral hand position
-Next and previous buttons on the thumb side for easy use in web browsing
-Great optical tracking
-Good battery life on the wireless model
Summary
Anker's vertical ergonomic mouse is an intriguing entry to the category. Coming in with a great price point with modest yet serviceable features it is a nice mouse. It's not the best on the market, but it's not a bad mouse either. It came in third in our reviews of the best vertical mice and held its own at #6 in the rankings of best ergonomic mice. If you want to try a vertical mouse but aren't sure if you'll like it then this may be a good entry level option. Or if price is a major concern then this mouse may be a good choice there as well to get bang for the buck.
Click here to buy the Anker 2.4G Wireless Vertical Ergonomic Optical Mouse on Amazon