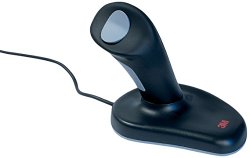 This vertical ergonomic mouse from 3M takes a different approach from some of the other products. It uses a joystick style handle on a normal mouse base. It is a strong performer in the market and has won a commendation from the Arthritis Foundation for ease of use. Here at Ergonomically Speaking it came in strong as well with a second place finish for vertical mouse and a strong top five in ergonomic mouse.
Click here to read more about the 3M Vertical Ergonomic Mouse on Amazon
Product review
This vertical mouse looks like it has a joystick sitting on a mouse in rough description. And in a way that is exactly what it is. This is a patented design from 3M designed to keep the hand and wrist at a neutral and relaxed position while using the mouse. The standup vertical design is intended to keep any of the hand or wrist areas from compressing against a desk or in that position.
There are three buttons on this mouse. There are right and left click buttons on the top of the mouse that are activated with the thumb. There is also a scroll button on the handle that is activated by the thumb. The base of the device is where the hand rests and functions as an optical mouse would and is moved by the handle/base combination.
The material and build are of good quality with a comfortable construction. The ergonomic design and quality are apparent, but it is not reported to be a good travel device with several reviews indicating damage when trying to travel with the device. One drawback to mention compared to other vertical mice is that the scroll is a button and not a wheel. The scroll is activated by holding the button and then moving the mouse. There are also no additional buttons to the right and left click and no customization options to the three buttons. It is still a good device but if those are necessary features for you then be aware of them.
The device comes in a large and small size and is available in wired and wireless models. It is recommended for right hand use only with no left hand support.
Product features
-Award winning product design from Arthritis Foundation
-Vertical joystick style design makes for a comfortable position for hands and wrist
-Comfortable material
Summary
The 3M vertical ergonomic mouse is a strong product in the category and has some awards/commendations to back up its record. It has a different look and feel than other vertical mice, but they are different than standard mice already so its not as big of a change as it may seem. With a good record, but some limitations on number of buttons there are a lot of pros and a few known cons. If you want a joystick style vertical mouse and don't need a ton of buttons and customization then this could be the mouse for you.
Click here to buy the 3M Vertical Ergonomic Mouse, Large Size, Black (EM500GPL) on Amazon